Adding Cheats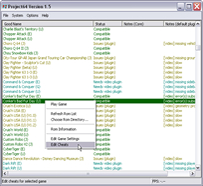 :: Click to enlarge ::
Now before you can add any cheats of your own
you must enable advanced mode.
This is done quite easily by following the pictures below.
Go into Options, Settings, & then Options like below.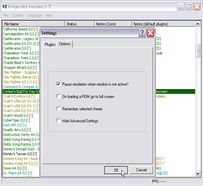 Untick Hide Advanced Settings & click ok.
You no longer have to load a game just to add a cheat code.
Just highlight the game you want to add to
& then right click on your mouse.
Choose the Edit Cheats Option & click it to get to the Menu.
Or if you want to add while playing a game,
Select System in PJ64 and from there "Cheats".
Also you can press Ctrl C to access the PJ64 cheats Menu
If it is a new cheat to a game or just adding more to a Existing.
Just right click your mouse to access the add cheats option.
In the "Name" field add the name of the cheat,
like "Infinite lives" or "All Levels" or whatever else.
In the "Code" field type the code/s,
Make sure the Code is written like above xxxxxxxx <space> xxxx
& no spaces at the end of the code/s or it will not allow you
to add as the "Add Cheat" will be Greyed out
once this is all correct click "Add Cheat".
Now here's something you have been asking for
You can now put up to 100 codes in at a time per cheat.
but that's not all.
You now have the chance to add your own Options "Code Extensions"
you have the choice of 2 Value = ??, 3 & 4
so if your cheat option is 1 = ? at the end
just add another ? & 0 to the value like the example above.
Once you enter a modifier Code (option)
the Value, Label Box will be available for use.
Make sure that the value has a space Value <Space> Label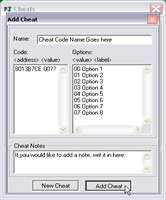 once you are happy with how you want it, Click Add Cheat.
Ok well that was pretty easy,
You can also add a Normal Or Option code to a "Group"
IE: Infinite\Health\Part 1 & Infinite\Health\Part 2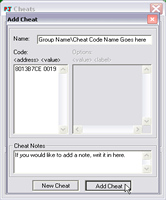 That will then make a Group Option like the one Shown Below.
& that is all there is too it.
To find out more about the Group & any other Options
Click >> FAQ << Here
:: Adding Cheats ::