Enable/Disabling Cheats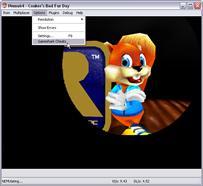 :: Click to enlarge ::
Load the Game you wish to play & then
Select the Options Menu in Nemu64 and from there Click "Gameshark Cheats"
and another Menu screen will pop up as shown below.
Find the cheat that you want to use and region if applicable
by using the scroll bar to scroll down to make your selection.
When you have found the cheat of your choice, click on the cheat name
to highlight it in grey in the code Box and then click on the Enable Cheat Button
to Enable the Cheats use for your game.
This will now display it in the Active Code Names Section.
Repeat the process until you have enabled and can see all the cheats listed as active.
To Disable Cheats you just click the remove Cheats Button,
and you will see it removed from the Active Code Names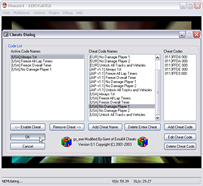 Once you are happy all your cheats are Enabled Or Disabled
click the Ok Button to close the cheats Dialog to get on with your game.

:: Nemu64 Enabling & Disabling Cheats ::