Deleting Cheats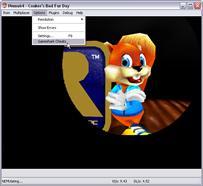 :: Click to enlarge ::
Load the Game you wish to Delete Cheat Codes on & then
Select the Options Menu in Nemu64 and from there Click "Gameshark Cheats"
the Cheats Dialog will then pop up as shown below.
Look for the Cheat Name that has the Codes you want to Delete.
Once you see it click on the Cheat Name to Highlight it in grey as shown above.
This will then display the Codes in the Cheat Code Box.
Click on the Cheat code to Highlight it in grey.
Click on the Delete Cheat Code Button and this will then remove the Code Completely.
Be careful though, as it will not give a "are you sure" option.
Once you click Delete it is gone so be sure you do want to delete it.
If you want to Delete the entire Cheat completely (Cheat Name and Codes)
Click on the Chats Name to Highlight it and then click the Delete Entire Cheat Button.
A warning Dialog will then pop up saying:
"Are you sure you want to delete the code permanently from the code list?"
If you are sure then click the yes Button and the entire entry will now be Deleted.
If you need to delete more codes on other cheats just repeat the process.
Once finished to click the Cheats Dialog Button to close to get on with your game.

:: Nemu64 Deleting Cheats ::