Adding Cheats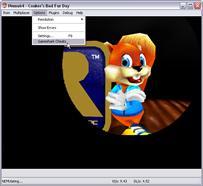 :: Click to enlarge ::
Load the Game you wish to add cheats to & then
Select the Options Menu in Nemu64 and from there Click "Gameshark Cheats"
the Cheats Dialog will then pop up as shown below.
First you Enter the cheats Name by clicking on the Add Cheat Name.
The Add Cheat Name Dialog will pop up, enter the cheats name and click the Ok Button.
Once the Cheats Name is entered click on the Add Cheat Code Button.
The Add Cheat Code Dialog will pop up, now it is time to enter the games cheat code/s.
Enter the cheats 6 Digit Address (1st Left Box) and the 4 Digit Value (2nd Right Box)
IE: 80123456 (First Address Box) 0001 (Second Value Box)
If you have more then one cheat code in the Cheat you want to Add it's not a problem,
as you can repeat the Add Cheat Code process to add more then one code to a Cheat Name.
This will allow you to have as many Cheat Codes you want to the One Cheat Name.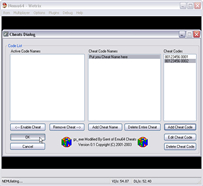 Once you have added all the Cheats you wanted to, just press the Ok Button.
This will then close the Cheats Dialog allowing you to Get on with your Game

:: Nemu64 Adding Cheats ::